Hi and thank you for checking out my workshops.
There are some new dates and New Venue. If you have any questions or would like to book a bespoke or specific date please contact Linda.
email: linda-rowe@hotmail.co.uk
---
Are you interested in learning a new craft or would you just like to be creative for a day? Why not book a Glass Workshop.
Small friendly classes at Linda's studios at Fisherton Mill, Salisbury and Cranborne, Dorset.
Recent Testimonial
We had a fantastic full day workshop with Linda. She really communicated her passion for the subject and through her encouragement and patience, we achieved far more than we thought was possible. Everything was extremely well managed in terms of ensuring distancing and meeting health and safety requirements; we felt comfortable and relaxed with the arrangements. Would thoroughly recommend the whole experience. Alison
Fisherton Mill Gallery and Cafe is located on Fisherton Street, Salisbury, SP2 7QY – from the city centre, towards the station on the right just before the mini roundabout. It is set back from the road through an archway. and is well signposted.
Click here for Google Map and directions.
If you come into the gallery/cafe there are stairs to the right up to the first floor and studio 6 is the first on the right. Parking in the station car park – £2 all day Saturday – or central long stay are the nearest. Park and ride are free in Salisbury.
Linda also runs a full studio from her home in near Cranborne, Dorset, a beautiful countryside location. Directions will be included with your booking.
Linda can create Bespoke Sessions Individually Tailored to you. This can be for an Individual 1-1, Group or Family experience. Contact Linda for cost and to discuss your requirements. A light lunch can be arranged for these sessions.
Glass Workshops
Linda run's day workshops – from 10.00 am to 3.00 pm (unless otherwise advertised) – for beginners interested in finding out about the glass fusing process and improvers wanting to expand their skills to create their own unique pieces.
This could be the first step towards a new hobby, discovering your own creative talent or just having some fun with friends in a relaxed atmosphere.
There is plenty of opportunity for one to one support if you are unsure or you can just soar with your own imagination.
Cost
Workshops are – Full Day@ £85 per person and Half Day @ £45 per person.
This covers the cost of all materials and includes a tea/coffee break. Bring a packed lunch!
All tools and equipment are provided.
Workshop Gift Vouchers!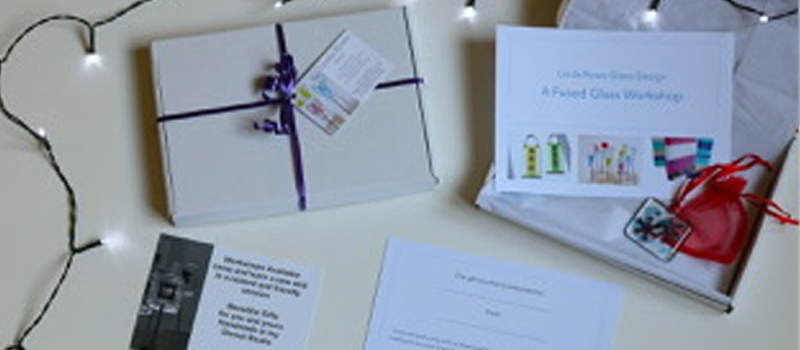 The perfect gift for those that love being creative or would love to learn / improve a new skill/ hobby.
The voucher comes boxed and gift wrapped and includes a small glass decoration and can be sent directly to the recipient with a handwritten message on request.
Each voucher is valid for a year for any session the recipient chooses.
Lots of 1-1 support in a fun and relaxed atmosphere. Easy Online booking.
Voucher includes all materials, kiln firing and teas/coffees for the session. No experience necessary.
---
Beginners and Improvers Fused Glass Workshops
Classes are 10.00 am to 3.00 pm unless otherwise advertised.
During this day workshop you will look at the process of kiln-formed glass and learn techniques to enable you to make your own unique fused glass pieces.
The morning will start with an introduction to the different kinds of glass we will be working with, some practice using the tools and how to cut glass (if needed) – all very easy!
At the end of the day your designs will be put into the kiln to be fired and will be ready for collection/posting in 3/4 days (extra charge for posting).
No experience necessary.
---
Fused Glass Jewellery Workshop
Classes are 10.30 am to 3.30 pm unless otherwise advertised.
Come and explore and create some beautiful Fused Glass Jewellery. During this session you will have the chance to make several pieces, earrings, pendants, cufflinks …. you choose!
The morning will start learning the skills of cutting and layering the glass for jewellery making – no experience necessary -incorporating metals, powders, and beads into your designs.
We will then explore the use and different ways of incorporating Dichroic glass into your jewellery.
At the end of the day, your designs will be put into the kiln to be fired and will be ready for collection/ posting in 3/4 days [extra charge for posting]
---
Fused Glass Taster Workshop
Morning sessions 10.00 – 12.30 pm. Afternoon sessions 2.00 pm – 4.30 pm ( Unless otherwise advertised)
A fun workshop introducing you to Glass Fusing.
Come and create a coaster, a sun catcher, or glass picture for mounting in a frame.
After an introduction to the process, you will learn the basics of cutting or you can create designs using pre-cut glass mosaics and glass shapes and metals. You will be able to make 2 10cm x 10cm approx designs.
No experience necessary!
At the end of the day, your designs will be put into the kiln to be fired and will be ready for collection/ posting in 3/4 days (extra charge for posting).
---
Linda can arrange bespoke days if you are a party of 4 to 8 people.
Please contact Linda to book your session or simply click here to book your place.